On 11th July 2019, the United States Securities and Exchange Comission (SEC) has approved a $28 million Reg A+ offering for decentralized Internet company Blockstack.
This is the first time that a Crypto offering has received SEC qualification and it will chart a way forward for US small business funding in the future.
According to a
Coindesk
article the founders Muneeb Ali and Ryan Shea spent $2 million to get approval for the sale.
"Mr. Ali said it took so long and cost so much because the company and the SEC had to start from scratch to create a protocol for a digital-token offering under Reg A+,"
The Reg A+ platform lets companies raise up to $50 million from retail investors as opposed to only from so-called accredited investors. Connecting a token with a Reg A+ funding round could turn these into truly cryptocurrency-based equity investment vehicles, although Blockstack is selling utility tokens this time around.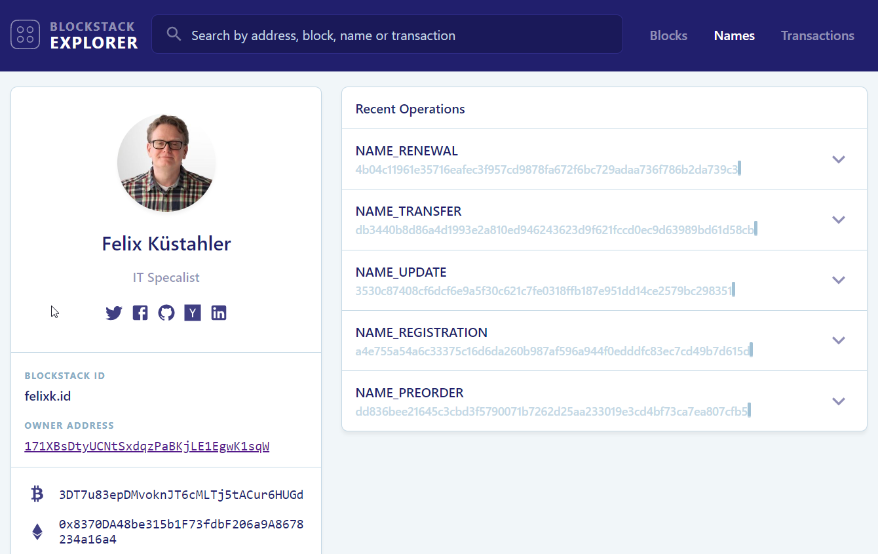 As they state on their website:
"Blockstack is a decentralized computing platform that puts users in control of their data and identity. Apps built on Blockstack make data breaches and trust violations an antiquated notion."
Being interested in KYC and regulatory processes I outline in this article, the various steps Blockstack had to execute for their SEC approved ICO (which costs them at the end $2 million). Being one of the 8000 non-institutional voucher holder, I got informed periodically about the progress of this approval process and the necessary steps.
May 2017 - Token Sale for Accredited Investors
Blockstack announced a Token Sale for a total of $50M for accredited investors. As part of this announcement they distributed 8000 vouchers to interested individuals with the same price offer. I was one of the persons who applied for the voucher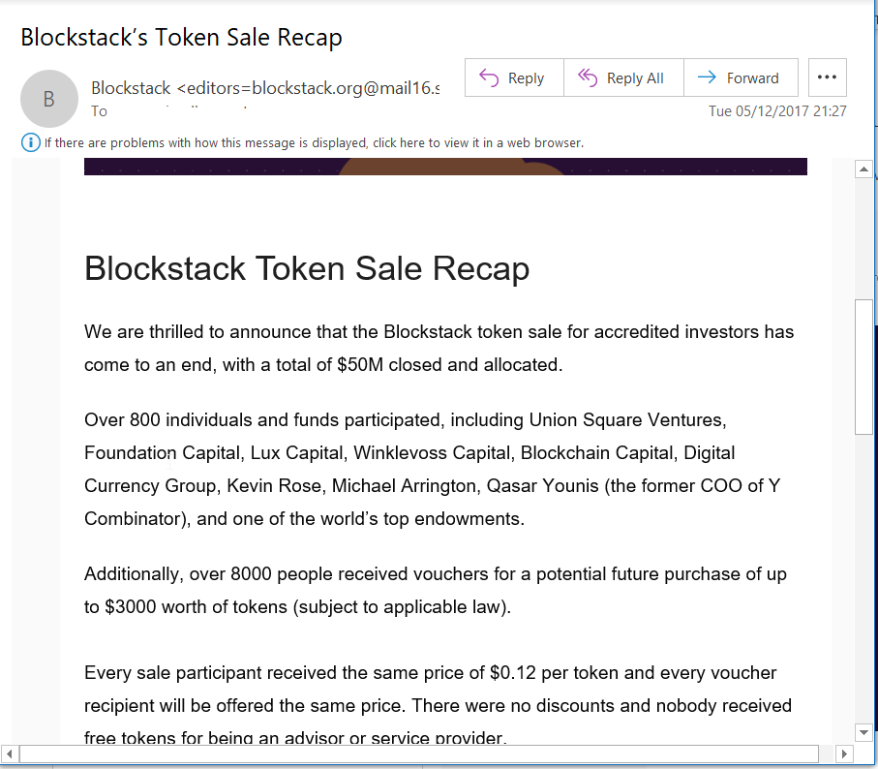 December 2017 - Distribution of Token Voucher for Individuals
In December the Token Voucher got distributed to the 8000 persons who were applying for it,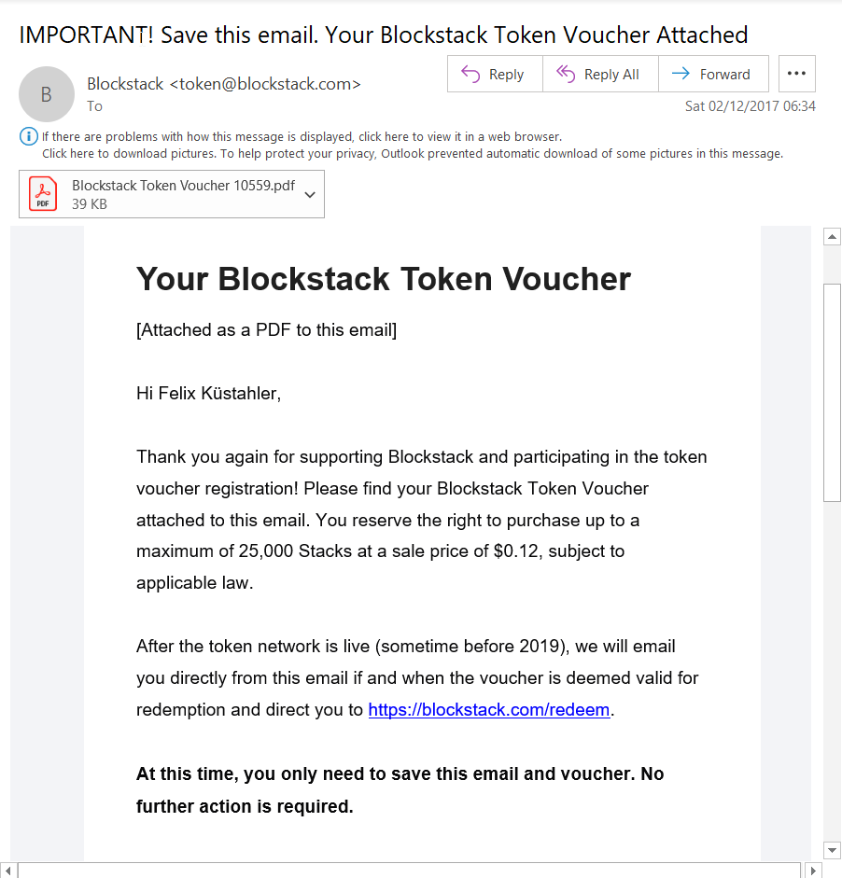 The voucher states that I'm eligible to request for 25'000 Stacks at a sale price of $0.12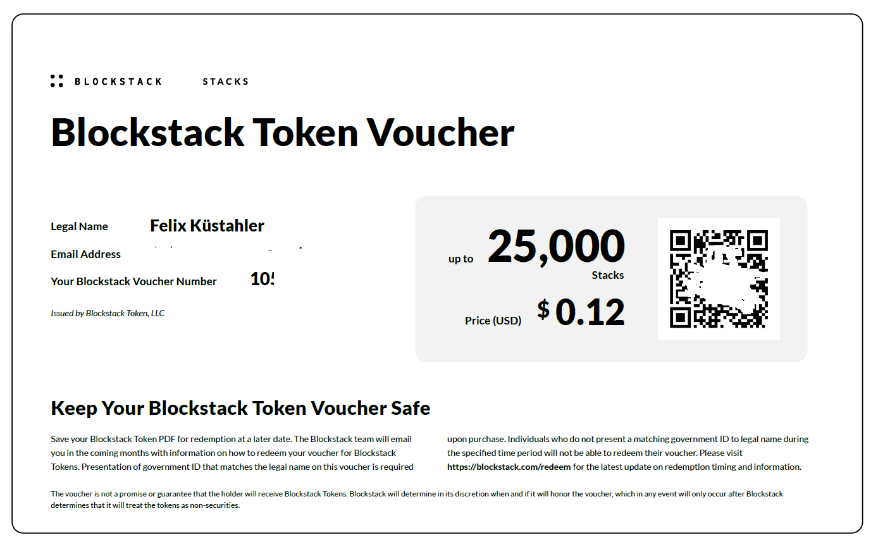 October 2018 - Stack Genesis Block Announcement
Blockstack announed the Launch of the Stacks Genesis Block.
"This year's hard fork is an especially exciting milestone for the ecosystem because it distributes the first Stacks tokens to existing purchasers and recipients…
This hard fork launches the Stacks blockchain v1, and enables the following two features for the Blockstack network:
Registration of all digital assets and smart contracts for registering digital assets with the Stacks token.

A genesis block that distributes Stacks tokens to existing purchasers.
The genesis block will deliver 395M Stacks tokens to purchasers of SAFTs and interests in two private funds that were sold in our 2017 Accredited Sale."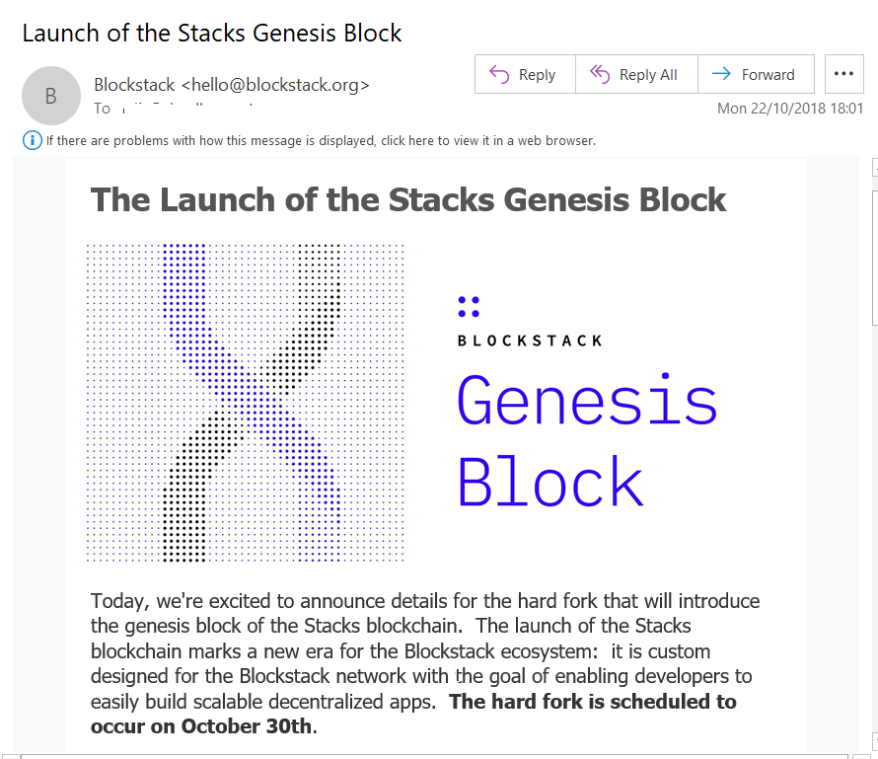 April 2019 - SEC Filing Announcement
Muneb Ali announced the SEC Filing for $50M Regulated Token Offering for its long-time supporters of Blockstack voucher holder (around 16 months after intial distribution of the voucher):
"What this means for you as a voucher holder:
Once the SEC has approved the offering, you will be able to purchase up to 25,000 Stacks at a sale price of $0.12 (up to $3,000 worth), with one eligible voucher per eligible person. Voucher holders can purchase additional Stacks at $0.30 per token, along with the general public who are able to participate in this sale at the updated token price, subject to availability. Non-U.S. persons may be ineligible to participate if the law in your local jurisdiction prohibits this token offering."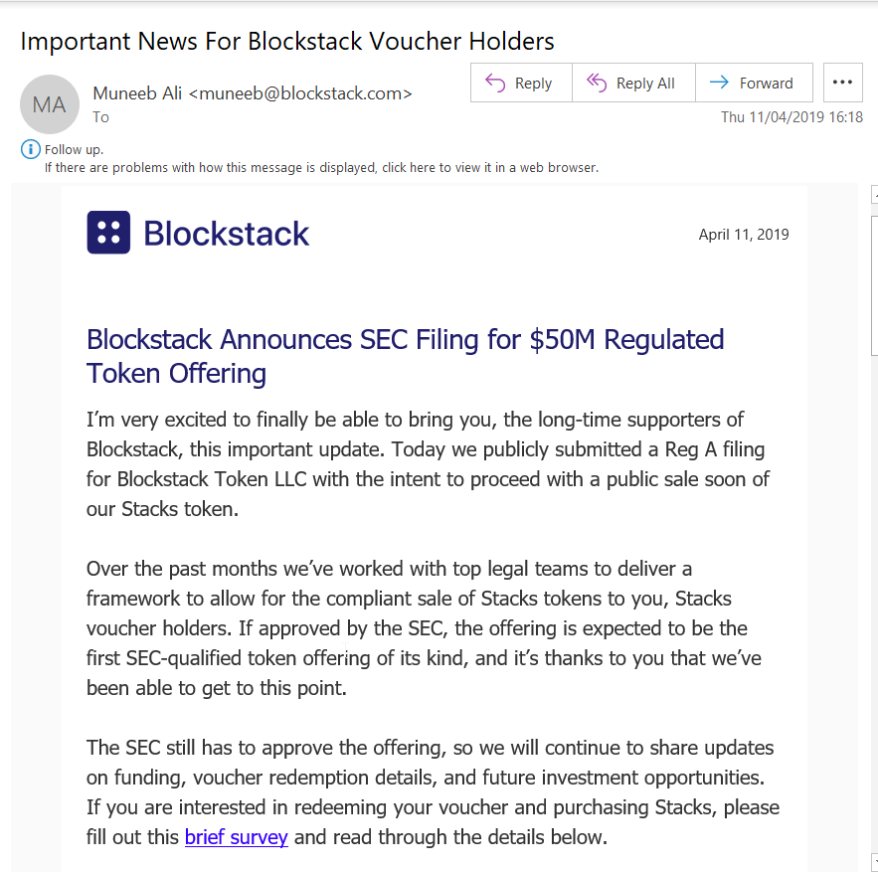 May 2019 - KYC Announcement for Voucher Holders
Time to register your voucher in order to be eligible to redeem it later.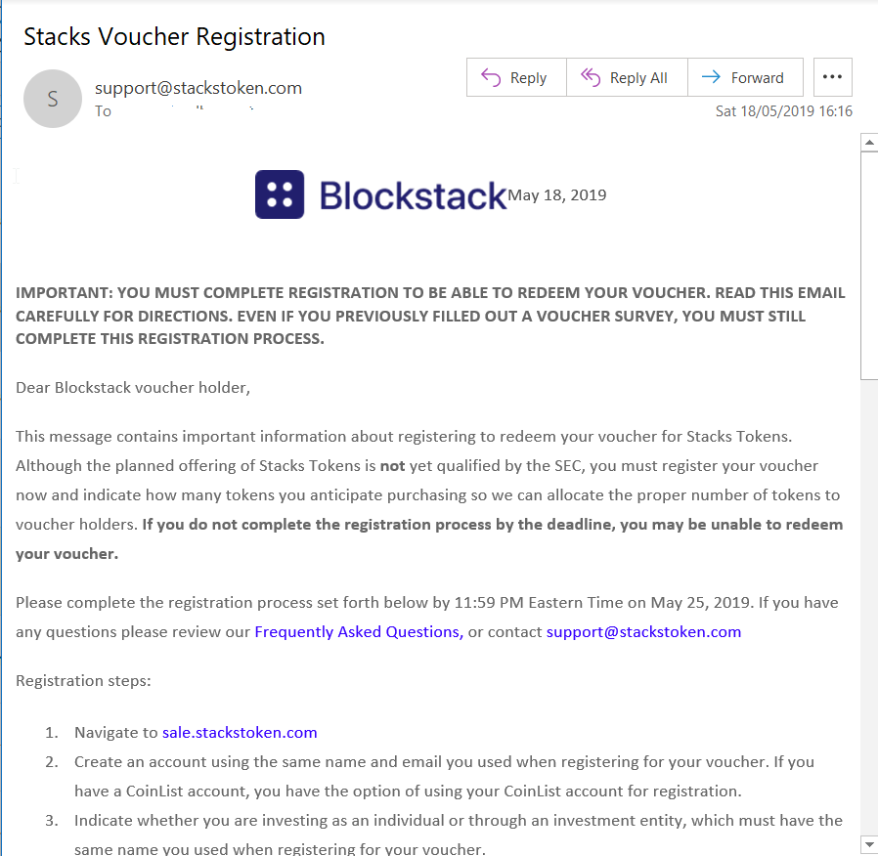 The registration process was doing some initial KYC checks. In my case additional verification was necessary executed by NetVerify which consisted of scanning Identity Cards etc.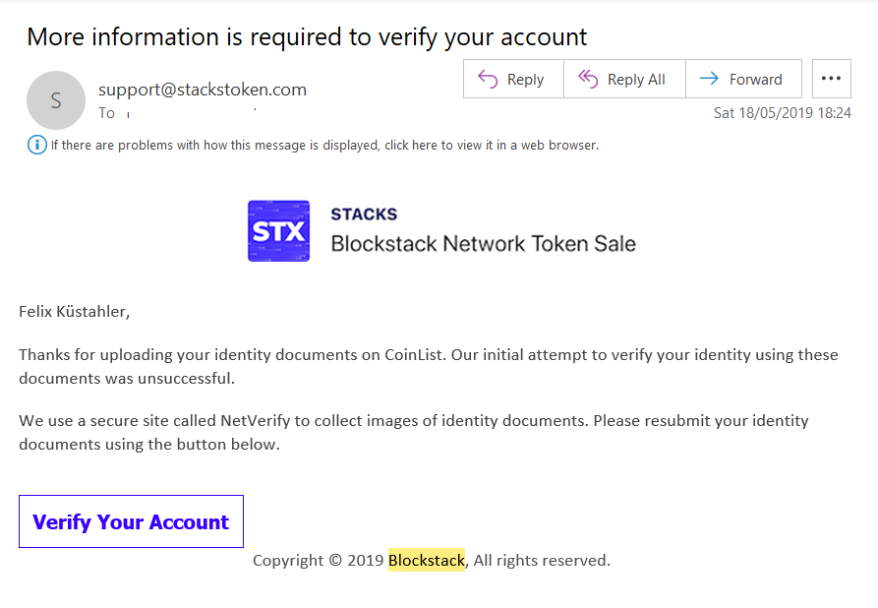 Finally the Voucher Registration got confirmed.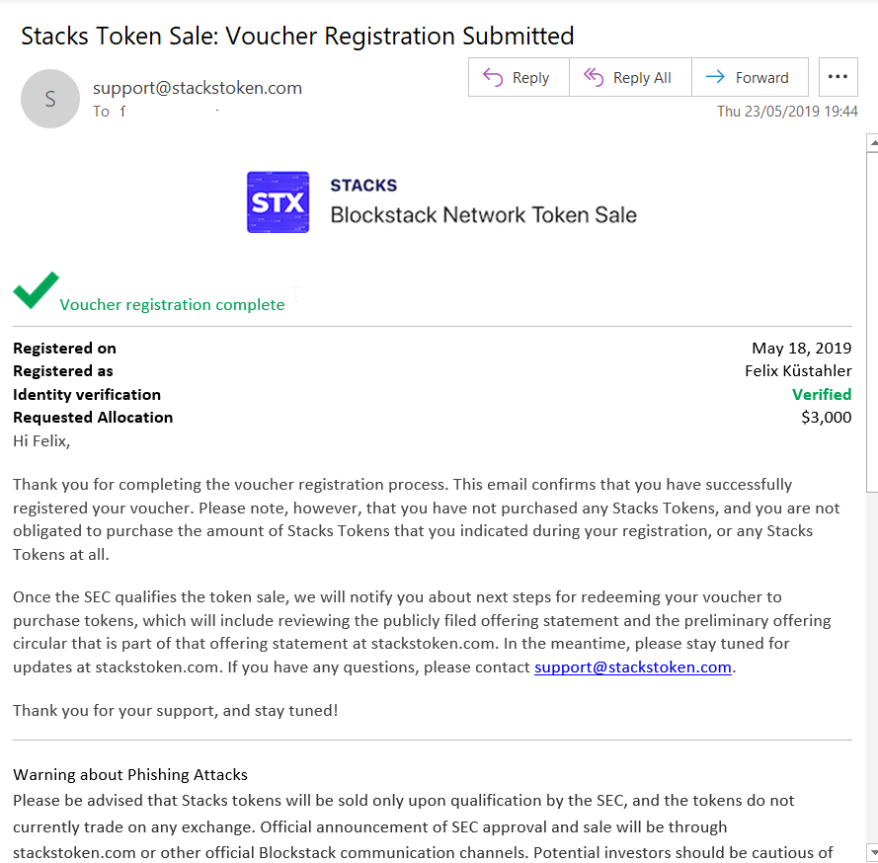 July 2019 - SEC Qualified Token Sale Starts
Blockstack announced that their Token Sale is the first SEC-qualified Offering in US History on the 10th of July. Sale will start immediately one day later.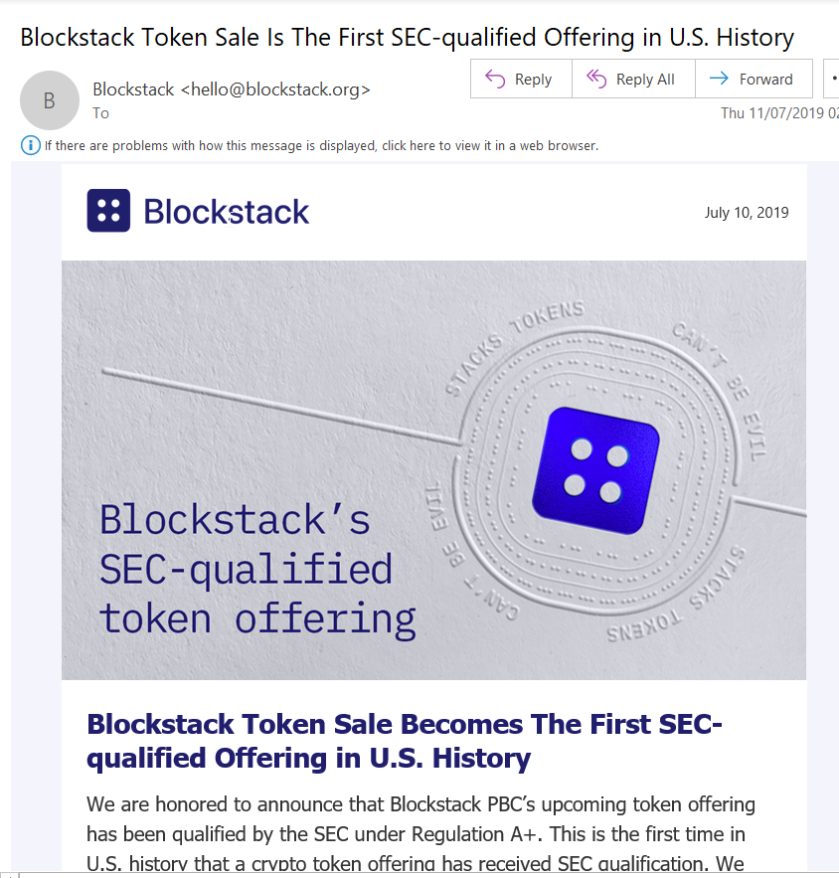 As Voucher Holder you got informed about the procedure. There is no guarantee for Voucher Holder to claim the Stacks as listed on the voucher. "Pre-registration serves as a head start".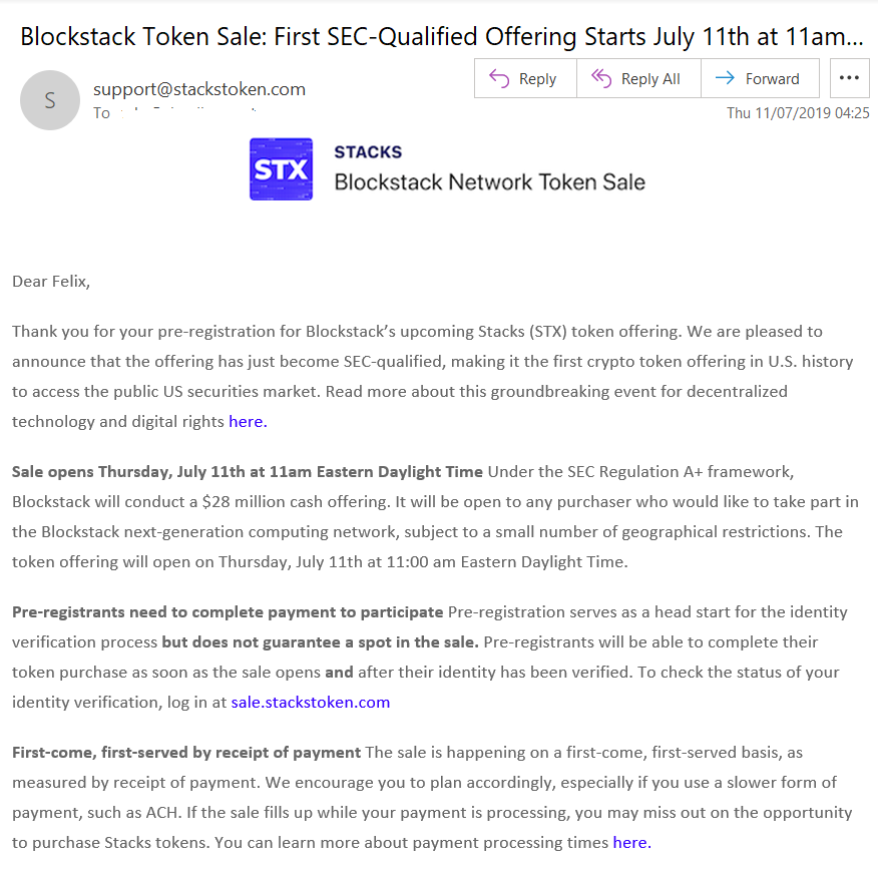 At Token sales start I got a Email which confirmed my pre-registration (again) and the possibility to start purchasing tokens at the price outlined in the voucher back in 2017.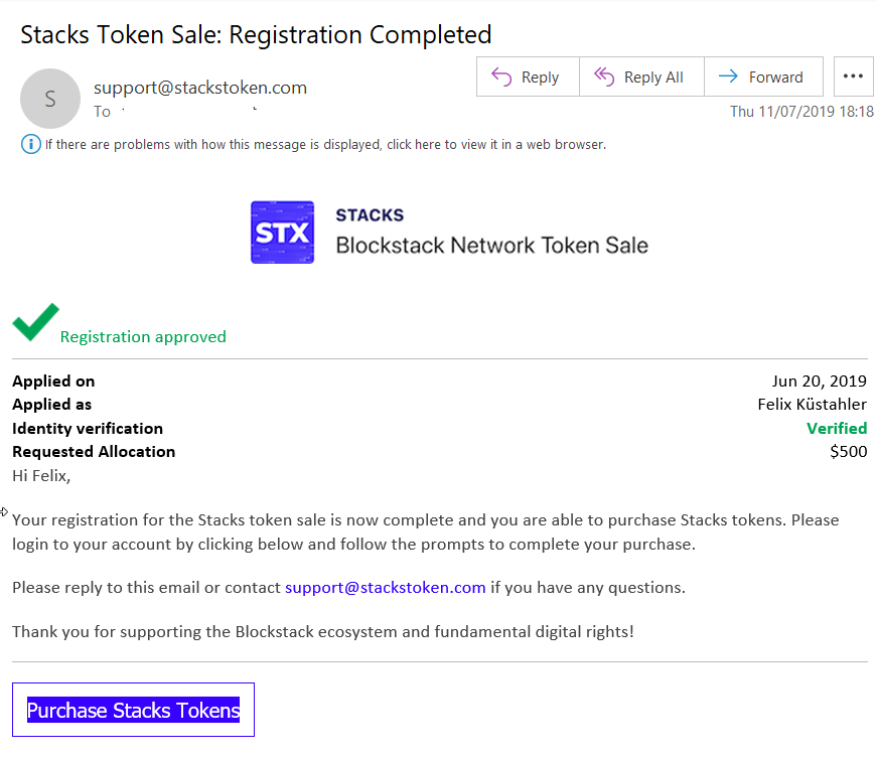 The process was guided through on the
stackstoken.com
Website and required to get a Stacks Wallet Address as the target address for the tokens (download of Stackswallet app). Payment transfer was possible in USD (via wire-transfer) or by transferring Ethereum or Bitcoin (direct and fast).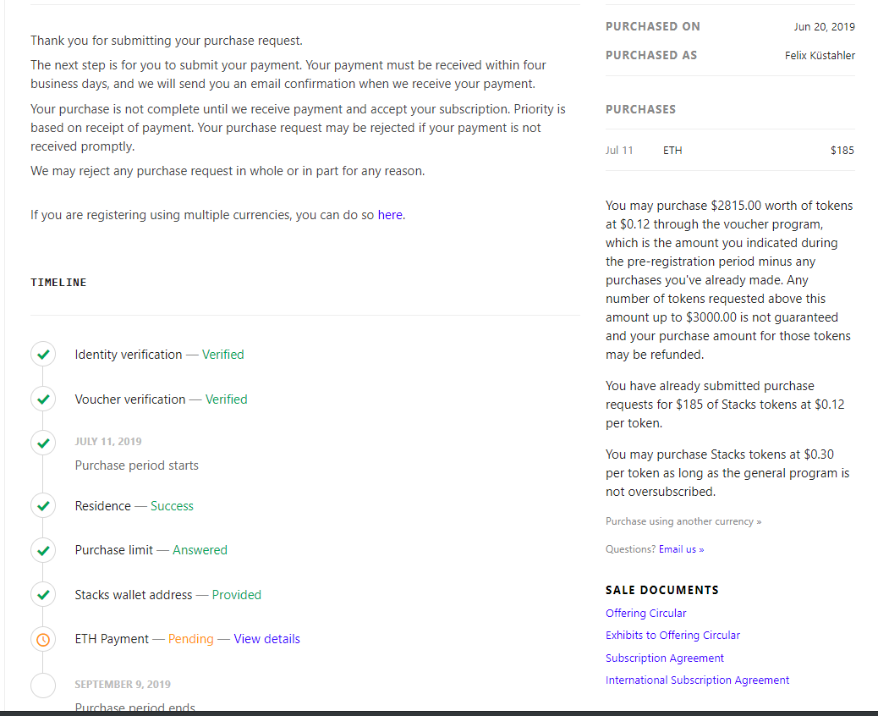 Finally the Ethereum transaction got confirmed after 60+ confirmations.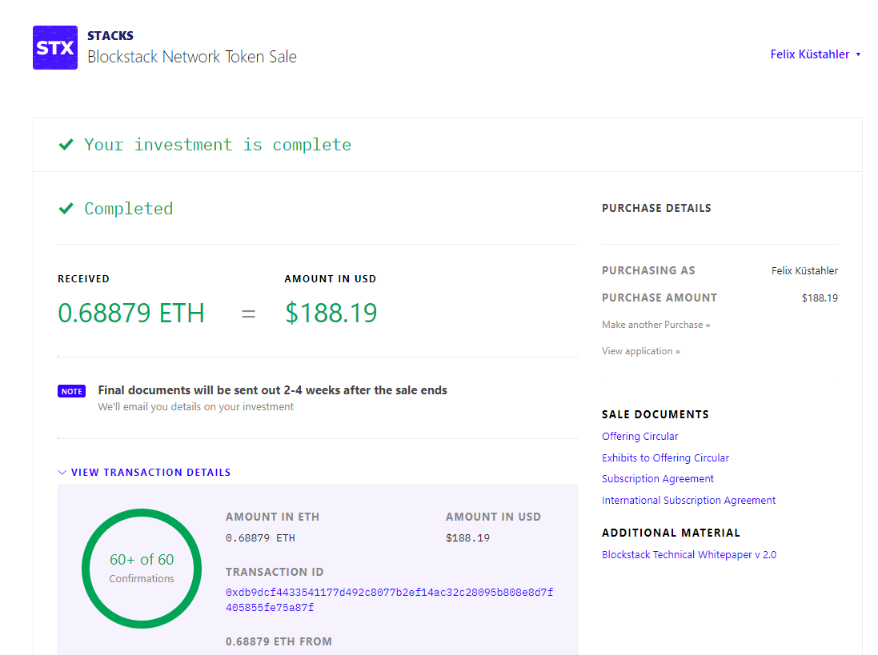 As one can see, quite some orchestrated processes Blockstack had to implement in order to be compliant with the SEC regulatory obligations. Interested to see how Blockstack will evolve.